Não podia faltar à 1ª edição da Vogue Fashion Night Out em Lisboa. Uma noite onde as ruas mais movimentadas da capital se enchem de pessoas bonitas, e as lojas se mantem abertas até às 0:00 cheias de animação e surpresas. Pelo menos era isto que a organização prometia... E foi isso mais ou menos que aconteceu! Fui para o Chiado às 20:00 para jantar no chines ao lado do elevador de Sta Justa, que é um dos meus restaurantes preferidos, para além de ser barato, podemos comer o que quisermos que nunca pagamos mais que isso, e tem sushi! nhami. Depois fomos para a rua para sentir o ambiente de uma Fashion Night Out. Bem, o ambiente é o melhor! Gente na rua a conversar, lojas cheias, empregados a servir bebidas, DJ's nas lojas, só não vi foi muitas promoções, e sacos prenda, que ouvi que iam haver mas guess what... não me importei, porque o que valeu foi mesmo o ambiente! Não tive tempo de visitar outras ruas como a Avenida da Liberdade entre outras, mas tive tempo para ir à loja dos estilistas Storytailors, visitar a loja e visitar a Mafalda do
Sailorettes, Love and Rock'N'Roll
que estava a passar som. Vale tão a pena visitar esta loja! Além disso estão com preços de saldos espectaculares! A animação continuou pela noite dentro. Para o ano há mais, assim espero! :) Algumas fotos:
I could not miss the first edition of Vogue Fashion Night Out in Lisbon. A night where the busiest streets of the capital are filled with beautiful people, and the shops are open until 0:00 full of excitement and surprises. At least that was what the organization promised ... And that's more or less what happened! I went to Chiado at 20:00 for dinner at a chinese restaurant next to the Santa Justa elevator, wich is one of my favorite restaurants, besides being cheap, we eat what we want and will not pay more than that, and they have sushi! nhami. Then we went to the streets to feel the atmosphere of a Fashion Night Out. Well, the atmosphere is the best! People on the street talking, shops full, employees serving drinks, DJ's in stores, but I didn't see much promotions or and gift bags, that I heard they were going there but guess what ... I didn't care, because what was worth was the environment! I didn't had time to visit other streets as the Liberty Avenue among others, but had time to go to Storytailors store, visit the shop and visit my friend Mafalda, from
Sailorettes Love and Rock N Roll
, who is playing DJ. Is it so worth visiting this store! They got clothes at sales prices that were amazing! The entertainment continued through the night. More next year, I hope! :) Some photos:
A pousar para a foto!
Posing to the photo!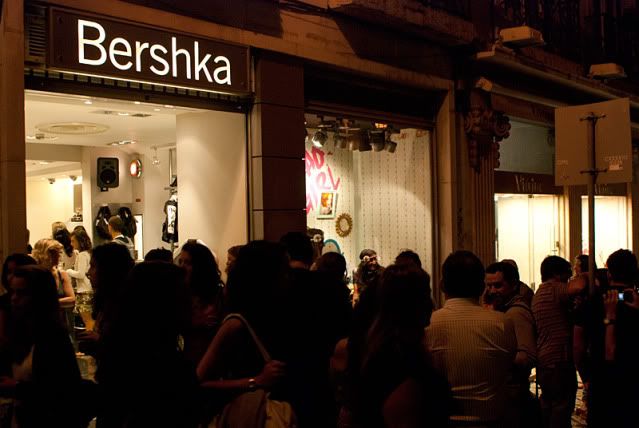 Raparigas a animar as montras das lojas e pessoas na rua!
Girls on windows of shops cheering up who's passing and people on the street!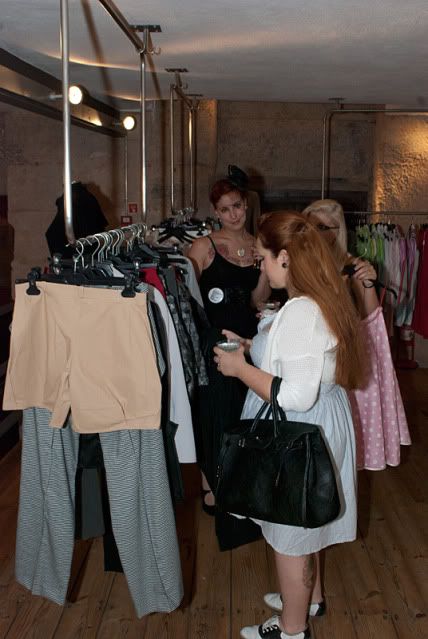 Na loja Storytailors!
At Storytailors store!

xoxo*